01
Iron / non-ferrous scrap treatment by large equipment
(Okazato Factory, Tsukuba Factory)
Iron / non-ferrous scrap processing by large machine such as guillotine (cutting) · press (compression) · cutter (disassembly · cutting), gas cutting, crusher. Processing process difficult items (large objects, heavy objects, waste machines, etc.) processing.
02
Various sorting (Koga Plant)
In Japan, one of the few mixed metal sorting professionals.
Sorting Shredder Mixed Metal by Single Hand Sorting Machine and Selected Women's Sorting Personnel Hand and Eyes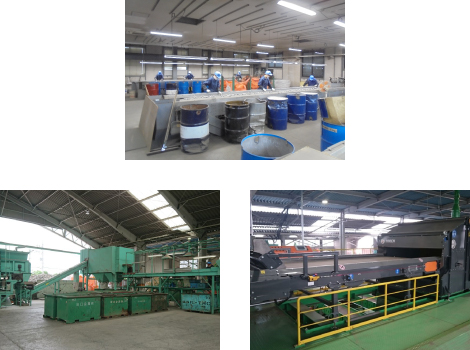 03
Periodic acceptance from home appliance recycling plant (Koga Okazato Group)
In particular, we place importance on the processing of compressor motors of air conditioners and refrigerators, and established a processing scheme that takes account of domestic proper treatment and environmental aspects.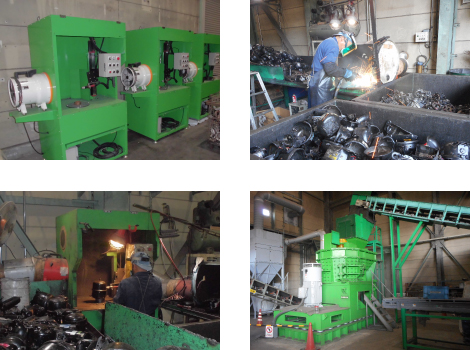 04
We will respond to your needs.
Deploying a wide variety of vehicles, quick and careful pick-up and transport work.
Acquired industrial waste disposal business permission (disconnection, compression, crushing).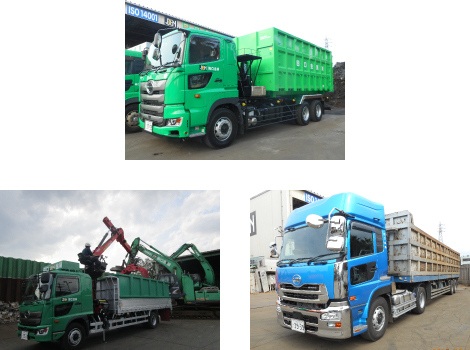 A global network centered on Asia. Direct export of commercialized non-ferrous scrap after selection / processing.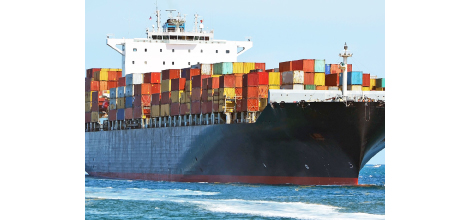 Acquire ISO 14001 at all business establishments
Effective recycling of limited metal resources.
Introduction of photovoltaic power generation equipment to all factories aiming at reducing power consumption.
We will consider coexistence and co-prosperity with employees and local communities, taking into consideration the safety environment inside the factory.